The Toughest Phone Cases | Cold Case Gear
THE TOUGHEST PHONE CASES | RUGGED BY DESIGN.

Stop worrying about your cellphone. Let Cold Case Gear worry about your phone. We set out to create the toughest phone cases to protect your smartphone.
On A Mission To Create The Toughest Phone Cases
The idea for Cold Case Gear was developed after years of spending frigid winters in Northern Minnesota and the scorching summer heat of the Badlands of South Dakota. These extreme environments are hard on our most important backcountry accessory. Our smartphones. We knew we would need the toughest phone cases out there to solve for the big three needs. Thermal protection, physical protection, and protection from the elements.
It was only after a winter camping trip in Rocky Mountain National Park, in which all of our electronics rebelled and died on the first day of a four day trip, that the solution became crystal clear. We'd take the world's best insulator, aerogel, and pair it with advanced manufacturing techniques in order to build the best cell phone case possible.
We built our West Slope Case to outshine the rest of the so called "Toughest Phone Cases" and take home the number one title. Our rugged cases come with a lifetime warranty, insane drop protection (you can drop it from way over just 6.6 feet), and have the best in class waterproof protection. This tough case is meant to protect your phone in truly the worst conditions not just a simple drop of your phone.
Why make it so tough? Call us paranoid, but the current, quote, toughest phone cases, unquote, on the market just weren't cutting it for us. Sure, they can withstand drops and have multiple layers of protection and maybe a built in screen protector, but we wanted more, so much more. Why do we want so much more? We overbuilt this product because we wanted to make sure it would handle any sort of recreational situation with aplomb. We overbuilt it so we can offer you a lifetime warranty knowing full well that you shouldn't need to take advantage of it. We overbuilt it because we're making it in the USA and we want to give you the best value for your hard earned money.
The overbuilt West Slope Case will likely never get tested to its true potential. If you've got a good story for us about how your West Slope Case helped you out of a jam we want to hear about it! Please head on over to our Contact page and get in touch with us!
---
Cold Case Gear is a husband and wife team whose adventures see snow, rock, water, sand, and everything in between. Our adventures inspire our innovation. The West Slope Case is the best four season cellphone protection available. It's a lot of things in one. It's a waterproof phone case that can be submerged in several feet of water, it's one of the toughest phone cases offering insane shock absorbency and massive drop protection, and it protects from heat and cold, extending your battery life by hours and hours. It's also universal, so whether you have an iPhone or a Samsung Galaxy, our universal fit will work with it.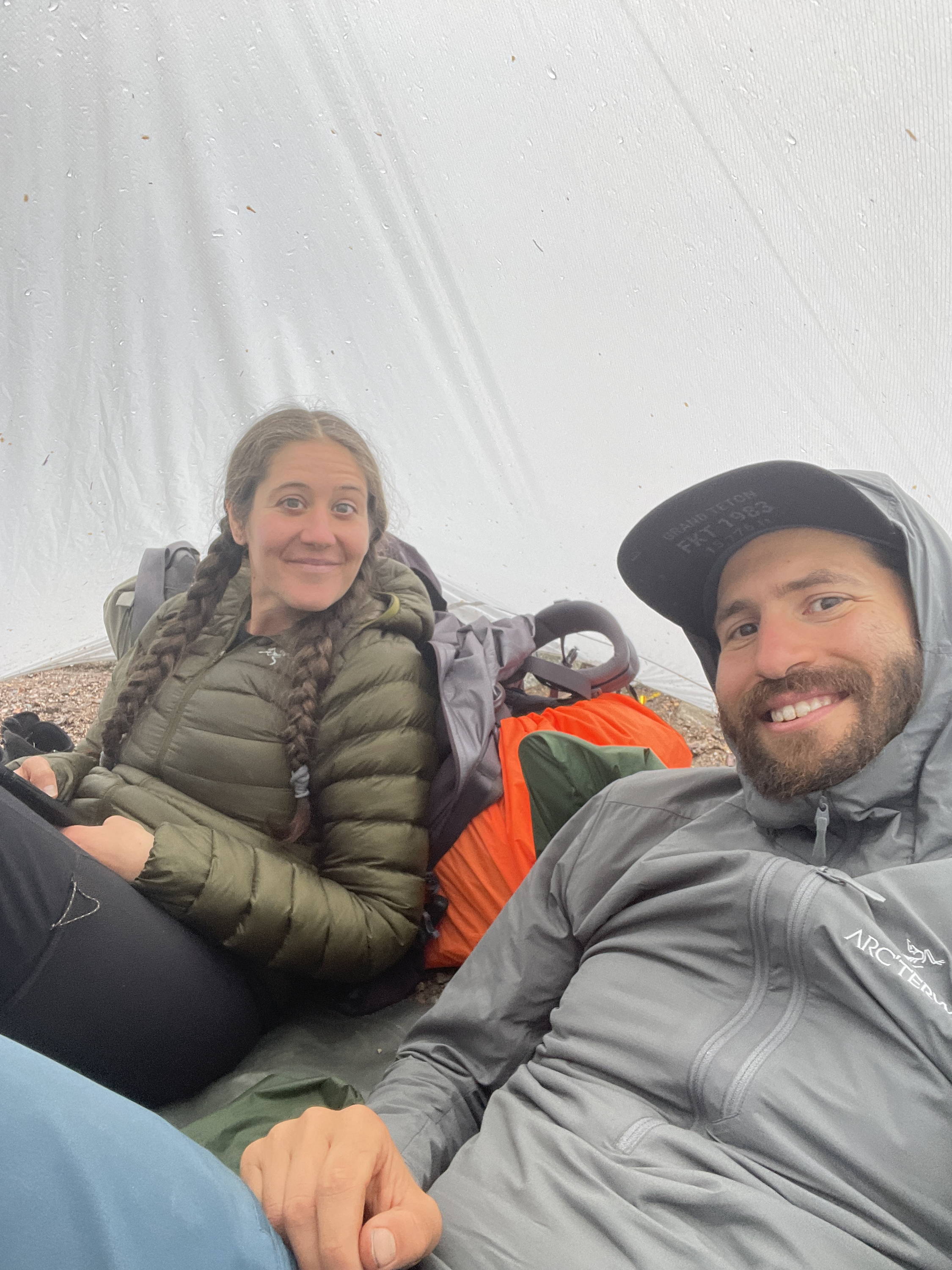 We made the West Slope Case to be one of the world's toughest phone cases. Built with aerogel on the inside and waterproof airtight construction on the outside, our waterproof phone cases are built to be taken down class four rapids or a trip through the white room on a cold December day - perhaps at our hometown, Wolf Creek
We make the world's toughest phone cases so you can worry about adventure, not your phone. Proudly Made In The USA and Born In Colorado.
Weather Be Damned. That's our philosophy. Cold Case Gear was born from this principle. You've no doubt heard the expression, "There's no such thing as bad weather, just bad clothing". Well, that's kind of the inspiration behind this whole thing we're doing here. We believe that weather shouldn't dictate how your outdoor experience goes. That's why our brand is centered around the idea of solving pain points relating to temperature. If only it could be 65 degrees and partly cloudy on every adventure, right? I suppose we wouldn't have that many riveting adventure stories if that were the case.
Talk about waterproof! Check out how we demonstrate just how waterproof our phone case is. Testing our gear has become of our favorite things and we love to get creative with it. Worth noting, our gear is always tested first by our Founder and CEO, Jon Rosenberg. In these tests he's placing his personal iPhone into our waterproof phone case to make sure it all works out. Normally the consequences are high should there be a failure. We are that confident that our West Slope Case will work for you.
The buoyancy of this waterproof phone case is amazing. It can be dropped from dozens of feet into water and it will still come back to the surface. Not every waterproof phone case can do that and we think this will serve paddlers, anglers, and others quite well.
---
Cold Case Gear is a team of adventurers, innovators, and dreamers. We are based in Pagosa Springs, Colorado, at the foot of the incomprehensibly rugged San Juan Mountains. The vast wilderness that surrounds us is our source of inspiration, and a brutal testing ground that quickly weeds out bad ideas. It's the perfect place to test out the toughest phone cases.
Our business is committed to being a force for good in the world. To lower our carbon footprint we have chosen to manufacture our products here at home. We are proud to be Made In The USA. Additionally, we source as many of our materials as possible in the States. Cold Case Gear is committed to giving back to the community which is why we are donating 1% of our revenue to environmental organizations. Together, we can make a difference. Check out our Partners page to see how we are working towards a better future.