Outdoor Safety. Leave Anxiety Behind.
Posted By Jon Rosenberg, Feb 28th 2022
Don't Dread A Dead Phone. Prevent it.

We rely on our phones so we don't wind up lost, stranded, and unable to either call for help or to navigate us back to our car. They have become such an intrinsic part of our lives that being without one can often be a detriment to our daily workflows and, unfortunately, our outdoor safety.
How many of your daily tasks are delegated to the phone? For us, we rely on it for driving directions, for communicating with friends and family, mapping and tracking our hikes, and looking up "local locksmith" when we lock the dang keys in the car. There are countless other tasks that we rely on our phones for.
Though we don't want to admit our phones have become essential hiking gear.

I'll be the first one to say that I hate how much I rely on my phone, especially when I'm enjoying nature out on a hike. The bottom line is that I just feel safer when I have it. It gives me the ability to map out my hike, navigate a web of trails, and leave myself perfect directions for coming back.
There have been times in snowy conditions when the only reason I know or feel confident i'm on the trail is because i'm looking at a map on my phone. While inherently this goes against most outdoor safety principles the reality of our universe is such that our phones and apps enable this type of exploration.
Had my phone died during this excursion I would have found myself off trail in the middle of thousands of acres of wilderness. While we're on the subject we'd recommend utilizing a premium app like Gaia GPS for premium mapping features. Their premium subscription offers SNOTEL levels as well as slope angle shading for when you may be in avalanche terrain.
Outdoor Adventures and Outdoor Safety need to go hand in hand.
There are certain things you can do to ensure your outdoor safety. From the simple things like staying hydrated and, like a parent might tell you, pay attention. But there is one thing that is paramount to staying safe that nobody seems to be talking about. It's not learning how to craft a shelter or identifying poison ivy, though that is certainly a great piece of knowledge to have.
Our safety tip is to make sure you've got a cellphone that's in good working order and that it remains charged, should you need it. Sure, you can stay alert for wild animals and dress in layers, toss a first aid kit in your pack, and that will always help with staying safe. An all encompassing tool for the best chance of outdoor safety is going to be your phone.
We totally understand the thought of your phone being broken or dying while out in nature can be a serious fear. The fact is, just about everything outside of your house wants to render this amazing and life saving device useless.
The concrete, the sun, the rivers and lakes, and just about everything in between is a hazard for your phone. Cold Case Gear lives and breathes outdoor safety so we take this seriously. Our West Slope Case is designed to protect your phone from all of these and more.
It is thermally insulating so your phone will never die from extreme cold or heat. It's impact proof well over twenty feet. It's waterproof and submersible to over six feet AND it even floats!
We listened to customer feedback and the consensus was that without a working phone the consuming feeling was dread and anxiety. Without our smartphones we'd be lost on the trail and unable to communicate with the outside world or send requests for help. Nobody plans to find themselves in this scenario but it does happen.
A similar story inspired the creation of Cold Case Gear.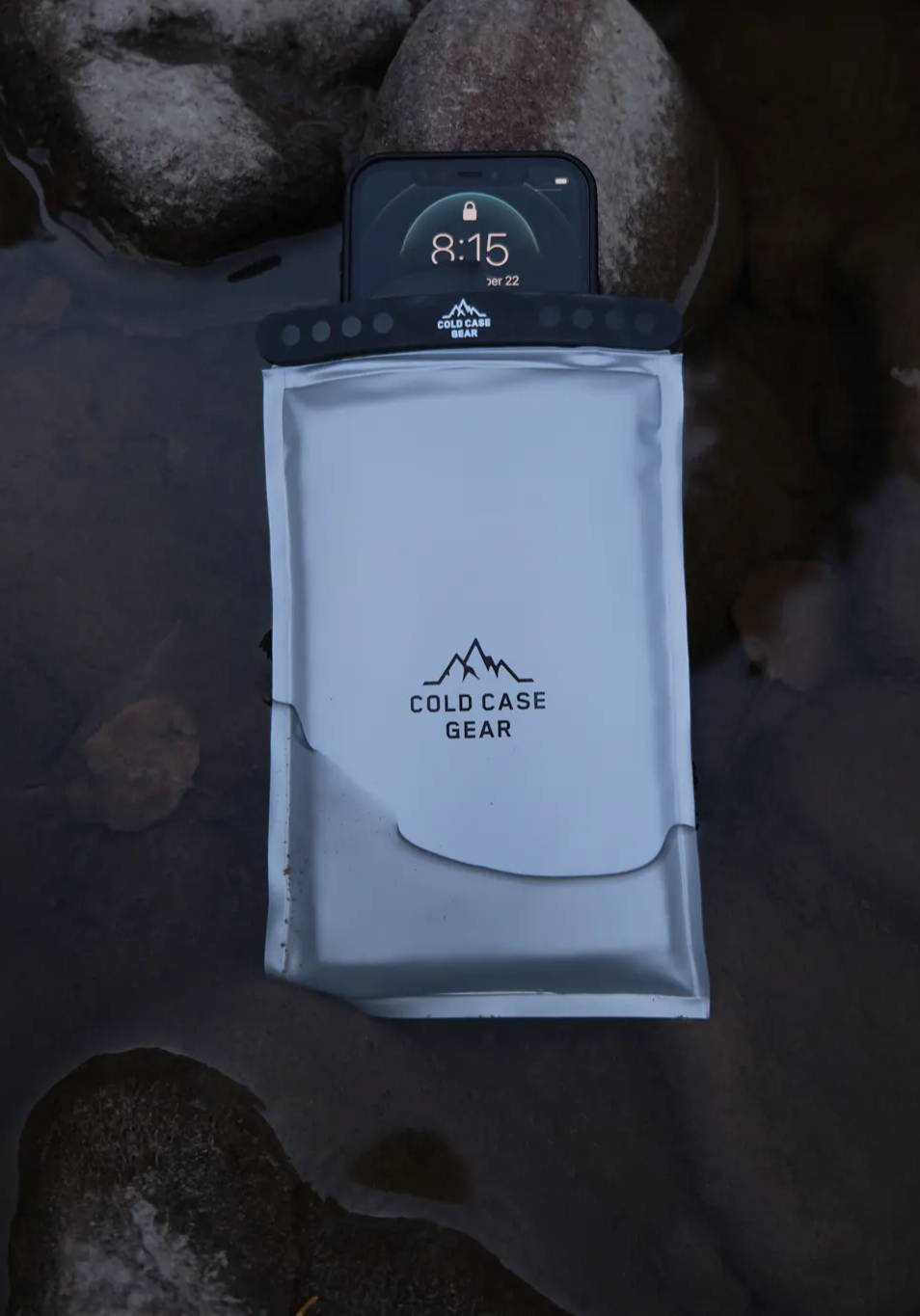 The impetus for starting Cold Case Gear was actually as a solution for Founders' wife, Deirdre. The problem faced was that her camera batteries would die while out winter camping and exploring. Deirdre, a Wildlife and Conservation photographer, always takes her camera equipment into the field. Even when "the field" is freezing cold.
On the first night of a five night backcountry camping trip in Rocky Mountain National Park all of her camera batteries died. These batteries carry a similar technology to cellphones in that they utilize a Lithium Ion pack to provide power.
Fortunately, this situation only provided some serious aggravation but nothing life threatening. In that moment a solution was born. If we are able to insulate batteries against extreme cold or heat we can protect them and keep them charged. Resolving a common aggravation or annoyance is a commendable journey but we know that it goes further than just that.
Outdoor Safety became our company's rally cry.
More people are seeking the solitude of America's wild places. People today are starting to realize and understand the power that these places have to heal trauma and stress as well as their ability to cultivate and grow communities. We believe that our West Slope Case provides a remarkable benefit and aid to yours and your loved ones outdoor safety.
SUBSCRIBE TO OUR NEWSLETTER
Recieve our latest weekly releases, offers, guides and more.