The World's Toughest Phone Cases.

What's the deal with these super tough phone cases?
Hey there, this is Jon Rosenberg, Founder, and CEO of Cold Case Gear. Making consumer products is an extremely vulnerable thing to undertake. It feels great when you get positive reviews from people who love your products but it is absolutely gutting when people say they don't like it. The entrepreneurial journey has been a roller coaster ride but I'm grateful for all of the learning that has happened along the way.
We're on a mission to build the most rugged phone cases and the world's most indestructible phone cases.
Why are we trying to make such rugged phone cases?
Funny story. Years ago we had a Kickstarter campaign for our original aerogel pouch. This little cut and sew product was meant to insulate food and electronics. It was big enough to fit most smartphones and a few cliff bars. The initial hopes for this product were high and it was believed we were on the cutting edge of manufacturing and creating a new and emerging industry segment. Our initial assumptions turned out to only be half true.
Well, it didn't really work as intended because not only did it have seams that air could penetrate but it also had a zipper which didn't provide any protection against the cold. As a first-time entrepreneur, there was so much unknown. Factories were seeking advanced CAD patterns that I knew nothing about. Our suppliers had questions about materials and fabrics that only an expert in the industry would understand. Unfortunately, corners were cut simply because at the time, I didn't know enough to ask the right questions to get the best product I could get.
Failure is a dark road but it leads to success.

Thanks to that first failure we now have a clear path. If we make the world's most indestructible phone case, arguably the world's BEST phone case, nobody could tell us it doesn't work. Right? Well, initial reviews are proving extremely positive for our West Slope Case. What ingredients go into making the toughest phone cases? First off, we give you a lifetime warranty. We provide a lifetime warranty because we stand by this product and if it breaks for any reason you must have done something pretty wild.
We provide a lifetime warranty because we believe you have to stand behind a product AND make it tough as nails. Now let's talk about drop protection. Normally, a company will test for drop protection at a standard height of around 6.6 feet. Well, we took that up a notch and performed our own drop test by launching our product off the side of a mountain and then assaulting it with hammers and other tools.
While we can't say it's military-grade because the testing to get a military-grade drop certification is extremely expensive, we know that it is military-grade drop proof because of the torture we put it through. You could literally drop your phone off a building and have it survive the fall in our protective case.
Our waterproof case is IPX8 rated.

Our rugged phone case offers unbeatable waterproof protection. You can submerge our waterproof case in over a meter of water thanks to our IPX8 rating. What other heavy-duty phone cases can claim that? Why does this level of waterproofing matter? Well, maybe you're a kayaker and you know you may wind up taking a swim or you're at least pretty sure you may need to execute a roll or two. Because our West Slope Case has an IPX8 rating we know that your phone will stay safe even if you are submerged in over a meter of water. Boom, there you have it, we built the ultimate kayaking phone case. Anglers and sport fishermen will also love the IPX8 waterproof rating of our phone case because of how unpredictable their days can be.
Traditionally we have viewed our West Slope Case as a cold-weather only item, but it has incredible utility during the summer months as well. Over this past summer, we launched our canoe on rivers and lakes and loved the versatility and quick access that this phone case provided. As an entrepreneur, I have to wear a lot of hats and one of those is the hat of content creator. Oftentimes I will shoot with my iPhone, and having a simple to use and protective iPhone case available to me, has been invaluable, especially while out on a boat when it can be tricky to move around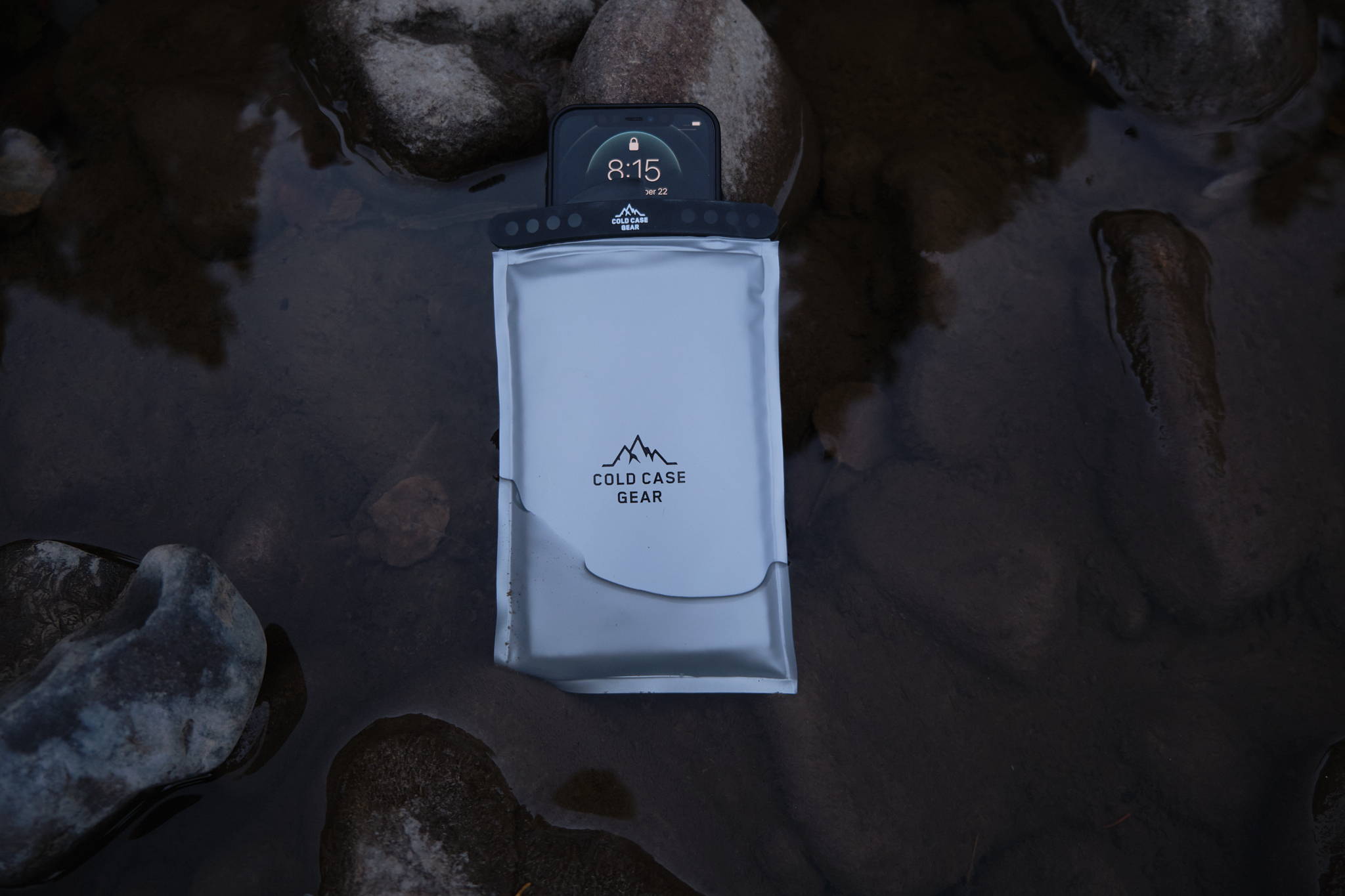 What makes these cases so tough?

Aerogel insulation is one powerful tool. The aerogel insulation we use was initially pioneered by NASA engineers and it works wonders in our product. Thanks to the aerogel's extraordinary density it provides a high level of both buoyancy and impact resistance. Aerogel insulation can be made a number of ways but ours is a silica-based product that has an incredibly complex internal structure that aids in its insulating powers.
The complex web of fibers that make up our silica aerogel makes it nearly impossible for air to travel through the insulation. This stops both convective transfer as well as conductive transfer. There is only one more form of heat transfer after that. These properties are inherent to aerogel insulation and that is part of what makes it such a great choice for us.
Let's talk about Radio Frequency Welding. Our manufacturing technique utilizes high-frequency radio waves to essentially melt two mediums together. This manufacturing technique yields a product that is devoid of all seams and therefore points of weakness. Our airtight magnetic closure is also RF Welded into the product thus creating a completely seamless and airtight unit.
An indestructible phone case that brings impact protection to a new level.

Rugged? We don't even know what that word means. The only thing you need to know about our cases is that your iPhone will survive an 8-pound maul to the face. If you want to put your iPhone 13 to the test, then you should know that Otterbox and Lifeproof cases are made for a much gentler world. In our world, we handle chainsaws, we handle heavy equipment, and we adventure hardcore. It was our desire to create something that would stand up to the most violent abuse so we could rest assured it would be up to the daily tasks of everyday life. Our Radio Frequency Welding process lends incredible strength to this product. Even our webbing loop on the rear of the product is rock solid. Go ahead and yank on it. If you rip it off, we'll replace it for you.
We are making the most rugged phone cases so you can worry about adventure, not your phone.

I think it's an even exchange. We are committed to making the toughest phone cases for your iPhone or Android devices so that you've got one less thing to focus on. Personally, I figure that if we make such a tough phone case that can handle any kind of situation, more people will like it, and fewer people will hate it!
In all reality, this product truly was built from a place of self-doubt. I think this is an important part of our story that needs to be shared. Because being a product manufacturer is such an intensely vulnerable thing, it only made sense for us to make the most rugged, the toughest, the most indestructible product that we could. Not only does it perform incredibly well but I can sleep easier at night knowing that I've done everything I can in order to make the very best product I could. Yes, it costs more than some of our competitors but we know it works better than our competitors as well. We understand the price point is high, but sometimes that is the cost of doing business domestically. We are proud that our phone cases are made in America. We are proud to offer a lifetime warranty.
SUBSCRIBE TO OUR NEWSLETTER
Recieve our latest weekly releases, offers, guides and more.