When it comes to our phones, we have to strike a finicky balance during our outdoor adventures.

We all seek out the great outdoors to get away from our busy schedules, but that escape now includes our phones too. No matter if we're using them to take pictures, pull up the trail map, and, okay fine, answer that one work email. These once single-purposed pieces of tech are now our multi-purpose tools that we can't live without – even in the great outdoors. And since our smartphones are now vital when hitting the trails, we can't have them overheating and damaged. That's why we need to protect them not only from minor dings but also harsh temperatures, inclement weather, and more. That's where our West Slope Case comes in.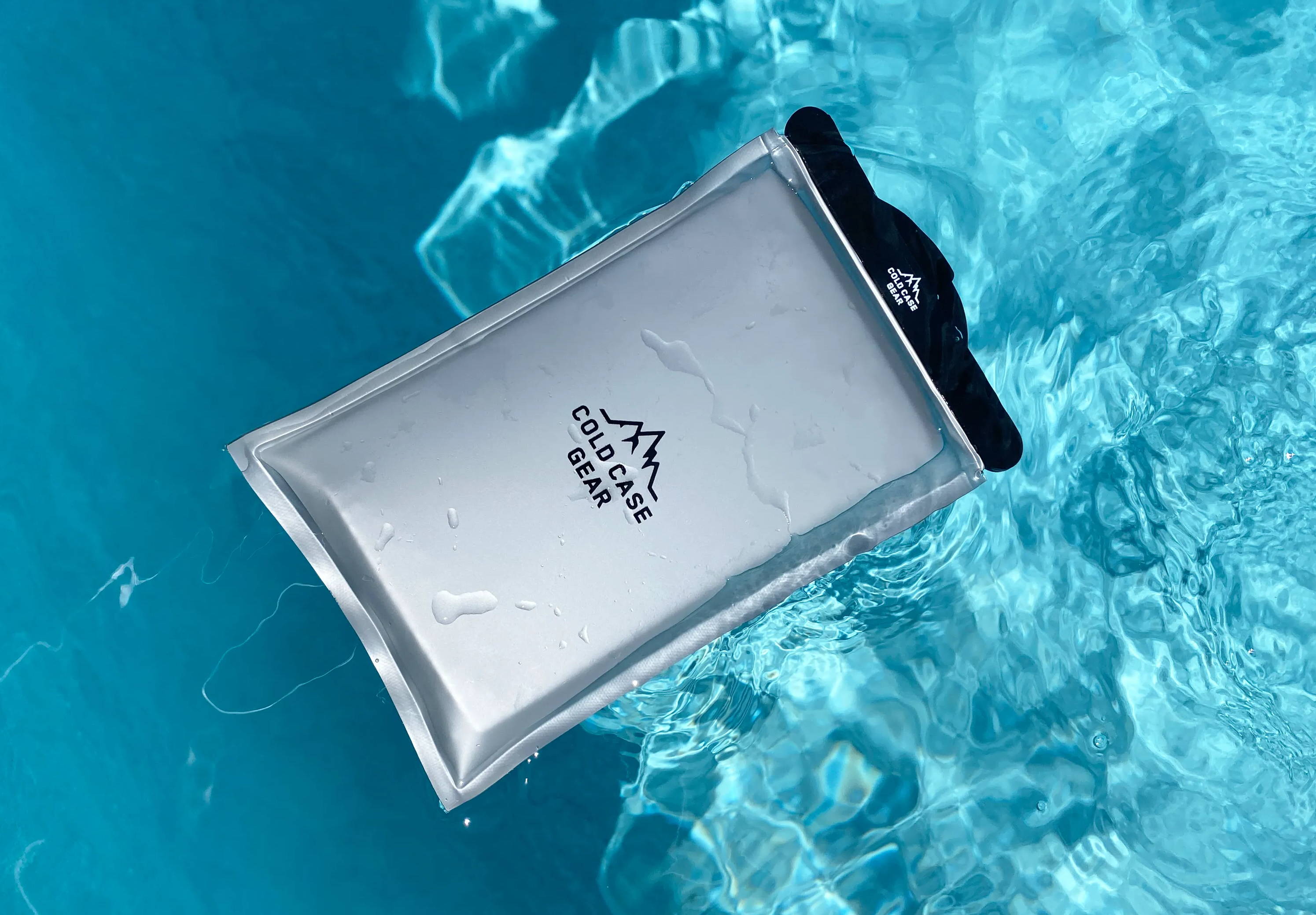 The West Slope Case is a simple, easy-to-use phone case with layered protection for everything from little scrapes to epic adventures. You no longer have to choose between ease of use and protection. The ultimate barrier between your phone and all outdoor elements, the case deflects sand and water while on the beach, floats when you accidentally drop your phone while paddling the creek, and keeps your tech cool at the right temperature on your year-round hikes.
We wanted to develop a case that we personally could put through the ringer. So we started searching the markets for a material durable enough to withstand our own adventures and settled on NASA-developed Aerogel technology.
Unlike other sturdy phone case brands, the West Slope Case will keep your phone cool in scorching and frigid temps but won't weigh down your pack. This is due to the aerogel insulation that's used on the inside of the tear-resistant pouch. According to NASA, aerogels are created by combining a polymer and solvent to create a gel. The gel is replaced by air, and what results are pores the width of a hair. This replacement creates a uniquely dense solid that is pillowy light. Aerogel is sometimes compared to "frozen smoke" or a "solid cloud," and when you hold the West Slope Case it's easy to understand why.
This same aerogel also sets the West Slope Case apart in the thermal phone case market in an increasingly warming world. Other cases may only keep phone temps down by reflecting the heat and light, but the West Slope Case works from the inside out. The same tiny pores unique to aerogel that make the case so dense and light also prevent air from moving through the gel. So in addition to being extremely lightweight, it's an excellent insulator. This means uncompromised temperature regulation to protect your phone battery, phone memory, and even your personal memories in between!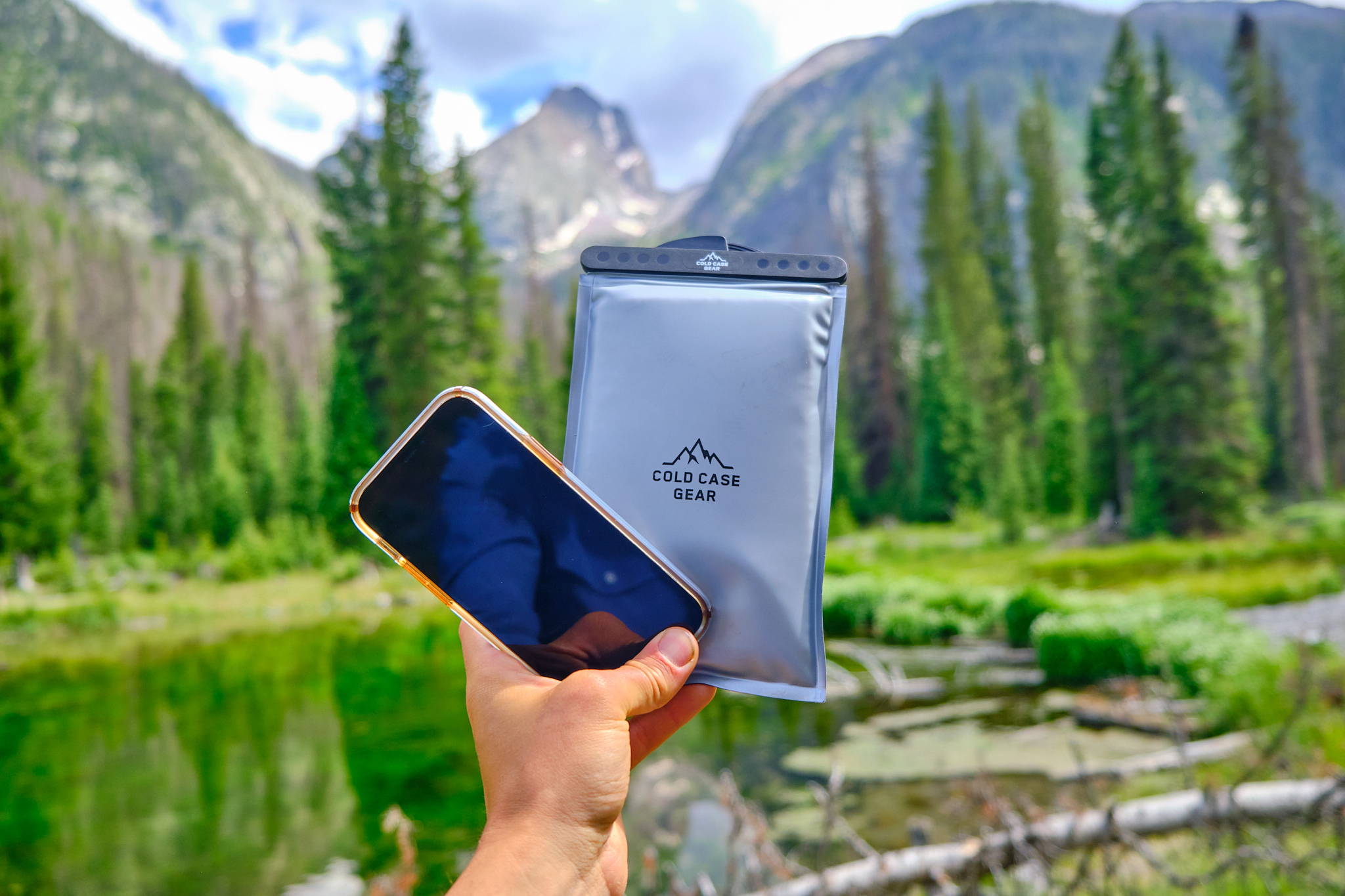 Last of all, a key differentiator between the West Slope Case and other thermal cases is its tight magnetic closure. It opens easily to slide your phone in and out, but it still tightly seals. It uses a strong magnet that is covered in a rubbery coating to prevent leaks and damaging moisture from getting to your smartphone. That means no more worrying about using your phone around water or always having to stuff it in a dry bag.
Now, thanks to Cold Case Gear, you can take your precious cargo on your arctic treks and desert trips without having to worry about drained or overheated batteries. It's ridiculously protective so you can be outrageously adventurous.